Prien and MacWilliam bequests establish new endowed professorships
Prien and MacWilliam bequests establish new endowed professorships
By UCSF School of Pharmacy Editorial Staff / Wed Dec 7, 2016
The UCSF School of Pharmacy has established new endowed faculty positions to be held by the chairs of two School departments.
As chair of the Department of Bioengineering and Therapeutic Sciences, faculty member Tejal Desai, PhD, will hold the Ernest L. Prien Endowed Professorship in Bioengineering and Therapeutic Sciences. As chair of the Department of Pharmaceutical Chemistry, faculty member Matthew Jacobson, PhD, will hold the Thomas William and Frederick John MacWilliam Distinguished Professorship.
Endowed faculty positions provide sustainable funds for the School in perpetuity, supporting the exceptional work of faculty members. "These endowments are tremendously important. They signal the expertise of the holders, while helping the School retain and attract outstanding scientists and clinicians to the faculty," explains School of Pharmacy Dean B. Joseph Guglielmo, PharmD. "We are very grateful to Ernie and Mary for these bequests and for the advances in science these endowments will support."
Prien endowment
The Prien endowed professorship is named for the late Ernest Prien, BS '34, a founding member of the UCSF Heritage Circle, who made an unrestricted bequest to the School. After earning his pharmacy degree from the School, Prien eventually purchased the Pioneer Rexall Drug Store in his hometown of Newman, California—the same pharmacy where he had delivered prescriptions as a teenager. He later became founder and chairman of a thriving wholesale drug distribution corporation. He died in 2013 at the age of 99.
The first holder of the Prien professorship, Desai was appointed chair of the Department of Bioengineering and Therapeutic Sciences in 2014.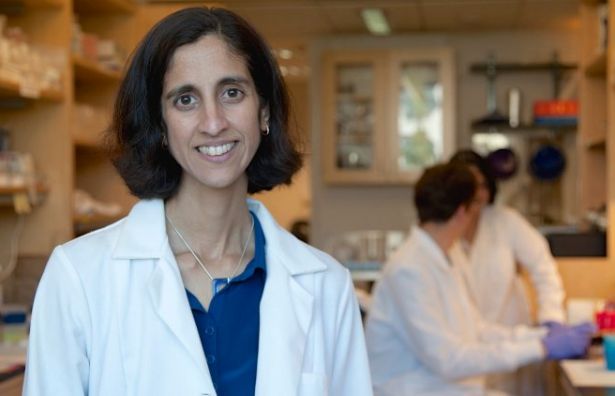 Research in the Desai Lab focuses on applying microscale and nanoscale technologies to better deliver medications to target sites and to enable the body to heal itself. As one example, Desai is leading research into hair-thin devices with nanometer pores (billionths of a meter in diameter) that are capable of delivering sustained doses of drugs to the back of the eye to treat macular degeneration, a leading cause of vision loss. Her lab is also researching the use of injectable microstructures (polymer rods or cubes fabricated with dimensions measuring in millionths of meters) to reduce scarring that can lead to heart failure in the wake of heart attacks.
Desai was elected a member of the National Academy of Medicine in 2015. She is a recipient of the Paul R. Dawson Biotechnology Award from the American Association of Colleges of Pharmacy for her contributions to contemporary teaching and scholarship. In addition to authoring more than 180 peer-reviewed publications, Desai helped to extensively redesign the drug delivery course for the School's doctor of pharmacy (PharmD) degree program. She is former chair of the UCSF/UC Berkeley Graduate Program in Bioengineering and founding faculty director of the UCSF/UC Berkeley Master of Translational Medicine program.
MacWilliam endowment
The MacWilliam distinguished professorship is named for and funded by the Thomas William and Frederick John MacWilliam Memorial Fund, established by the late Mary MacWilliam, EdD, in memory of her late brothers. Thomas MacWilliam, BS '34, earned his pharmacy degree from the School, and then continued his career as a School faculty member in pharmaceutical chemistry and as chief pharmacist at San Francisco's Laguna Honda Hospital. Mary MacWilliam earned her doctorate from UC Berkeley and was a librarian at San Francisco State University for more than 40 years.
The first holder of the MacWilliam professorship, Jacobson was appointed chair of the Department of Pharmaceutical Chemistry in 2015.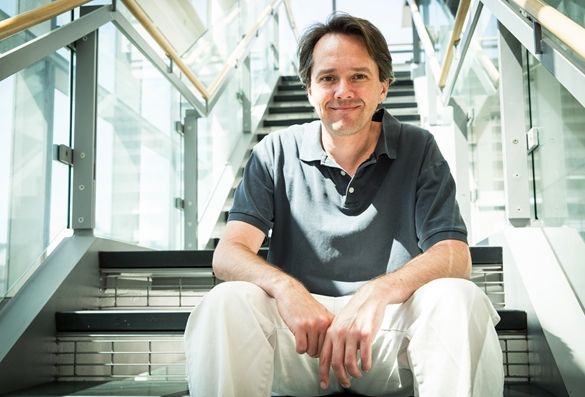 Jacobson's research focuses on computational biophysics and computer-aided drug design. For example, the Jacobson Lab develops programs that model the biophysics of membrane permeation to predict and improve the ability of potential drug compounds to pass through the gut wall and blood-brain barrier and enter cells.
His research group also developed new computational approaches to predict: a) functions of previously unknown enzymes discovered in bacterial genome projects; and b) how atomic-level changes to protein molecules can change their shape (conformation) or flexibility (dynamics) and thus their functions in both health and disease.
Software written by Jacobson and members of his laboratory is widely used in drug discovery. In addition to authoring more than 150 publications, Jacobson has co-founded three biotechnology companies that are developing new disease treatments and drug discovery approaches.
A recipient of the National Science Foundation's CAREER award, Jacobson has also received the School's Dean's Innovation in Education Award, in recognition of his transformation of the first-year PharmD course, "Physical Chemistry: How Drugs Work." Jacobson is a former director of the UCSF Biophysics Graduate Program, one of five PhD programs that are administered by the School of Pharmacy.
With the generosity of the Prien and MacWilliam estates, the School now benefits from the support of nine endowed faculty positions, with each of our three departments supported by an endowed position to be held by its sitting chair.
 
---
About the School: The UCSF School of Pharmacy is a premier graduate-level academic organization dedicated to improving health through precise therapeutics. It succeeds through innovative research, by educating PharmD health professional and PhD science students, and by caring for the therapeutics needs of patients while exploring innovative new models of patient care. The School was founded in 1872 as the first pharmacy school in the American West. It is an integral part of UC San Francisco, a leading university dedicated to promoting health worldwide.