Five UCSF faculty formally inducted into National Academy of Medicine
Five UCSF faculty formally inducted into National Academy of Medicine
By Katherine Krebs / Mon Nov 7, 2016
The recently concluded National Academy of Medicine (NAM) Annual Meeting saw the formal induction ceremony and welcome dinner for Academy members elected in 2015. Five individuals from UCSF were honored: Kirsten Bibbins-Domingo, MD, PhD, MAS; Andrew Bindman, MD; Atul Butte MD, PhD; Tejal Desai, PhD; and Shinya Yamanaka, MD, PhD.
It is the Academy's tradition to induct new members at their annual meeting, one year after the elections are announced. The ceremonial dinner was held on October 15, 2016.
Election to the Academy is considered one of the highest honors in the fields of health and medicine and recognizes individuals who have demonstrated outstanding professional achievement and commitment to service. "[These] members represent the brightest, most influential, and passionate people in health, science, and medicine in our nation and internationally," said NAM President Victor J. Dzau. "They are at the top of their fields and are committed to service. The expertise they bring to the organization will help us respond to today's most pressing health-related challenges and inform the future of health, science, and medicine…. "
During the meeting, NAM members discussed current and future priorities for the Academy, and participated in a scientific symposium on "Reversing the Trend of Obesity and Type 2 Diabetes." Margaret Chan of the World Health Organization and Bill Dietz of George Washington University delivered keynote addresses on global trends and U.S. patterns and disparities, respectively, followed by in-depth panel discussions on drivers and promising clinical and population-level interventions. More than 1,000 people participated in the symposium in person or via live webcast. Archived video from the event is now available.
New members are elected to the Academy by current active members through a selective process that recognizes individuals who have made major contributions to the advancement of the medical sciences, health care, and public health. A diversity of talent among NAM's membership is assured by its Articles of Organization, which stipulate that at least one-quarter of the membership is selected from fields outside the health professions—for example, from such fields as law, engineering, social sciences, and the humanities.
Established originally as the Institute of Medicine in 1970 by the National Academy of Sciences, the National Academy of Medicine addresses critical issues in health, science, medicine, and related policy and inspires positive actions across sectors. NAM works alongside the National Academy of Sciences and National Academy of Engineering to provide independent, objective analysis and advice to the nation and conducts other activities to solve complex problems and inform public policy decisions. The Academies also encourage education and research, recognize outstanding contributions to knowledge, and increase public understanding in matters of science, engineering, and medicine. With their election, members make a commitment to volunteer their service in the Academies' activities.
The National Academies of Sciences, Engineering, and Medicine are private, nonprofit institutions that operate under an 1863 congressional charter to the National Academy of Sciences, signed by President Lincoln.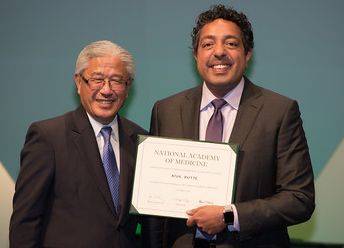 ---
About the School: The UCSF School of Pharmacy is a premier graduate-level academic organization dedicated to improving health through precise therapeutics. It succeeds through innovative research, by educating PharmD health professional and PhD science students, and by caring for the therapeutics needs of patients while exploring innovative new models of patient care. The School was founded in 1872 as the first pharmacy school in the American West. It is an integral part of UC San Francisco, a leading university dedicated to promoting health worldwide.