Remembering C.C. Wang
Scientist, mentor, educator
By Grant Burningham / Mon Aug 28, 2017
Ching C. Wang, PhD, a beloved UCSF School of Pharmacy researcher and professor, known for bringing molecular biology and biochemistry to parasitology, and for his work on the antiparasitic medicine ivermectin, died last week at the age of 80.
To his wide circle of colleagues and friends, he was known simply as "C.C."
B. Joseph Guglielmo, PharmD, dean of the School of Pharmacy, remembers Wang as a rare talent who worked tirelessly on all aspects of life at UCSF. "C.C. was an outstanding mentor, an outstanding educator, and he cared deeply about the campus," Guglielmo says. "Few people have made such a large impact on the School in terms of research, education, and what he gave back. His death is an incredible loss. There just aren't many people like him."
Wang was born in China in 1937, where he escaped the Japanese invasion by roaming the countryside. He was frequently sick, contracting typhoid, dysentery, and pneumonia. He also contracted malaria, which was crudely treated; it took him years to recover.
"The memories of these sufferings drove me into parasite research," Wang told ASBMB Today in a 2016 profile. He thought parasitic diseases were underrepresented in medicine, because they mostly afflict the poor.
After studying chemistry at the National Taiwan University, Taipei, he traveled to the U.S., where he earned a PhD in biochemistry at UC Berkeley and met his wife, Alice, who was a graduate student in molecular biology.
Wang completed postdoctoral work at Columbia University and Princeton, and took a job at the pharmaceutical giant Merck, where he developed a technique for screening soil samples for compounds with antiparasitic properties.
A soil sample collected from a Japanese golf course changed the course of Wang's career. His research showed the compounds in the soil paralyzed parasites, leading to the development of the medicine ivermectin.
Ivermectin could treat onchocerciasis, also known as river blindness, the second leading cause of blindness worldwide. It also proved helpful against lymphatic filariasis, which can cause the painful and debilitating syndrome known as elephantiasis. Both diseases are caused by parasitic worms.
Worldwide impact
It's almost impossible to overstate the human impact of this work. Merck eventually gave the drug away at no cost. According to the World Health Organization, a program to eradicate onchocerciasis that includes ivermectin has treated 40 million people, saving the sight of 600,000 and helping to feed 17 million people by opening up disease-free arable land in Africa. Both lymphatic filariasis and onchocerciasis could be eradicated in the next five years.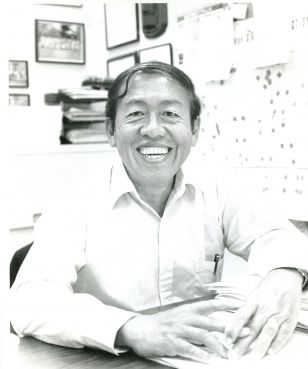 William C. Campbell and Satoshi Ōmura, two of the lead scientists behind ivermectin, shared the Nobel Prize in 2015. Wang always took pains to also give credit to the president of Merck in the 1970s, P. Roy Vagelos, for making the bold decision to give the lifesaving medicine away.
Wang made the leap to academia in 1981, taking a faculty position in the School's Department of Pharmaceutical Chemistry, where his wife, Alice, worked with him in his laboratory.
"We were thrilled to add an accomplished and well respected medicinal chemist from the industry to our faculty," remembers Leslie Z. Benet, PhD, faculty member in the Department of Pharmaceutical Chemistry. "C.C. met all of our expectations and more, serving as an outstanding faculty member, mentor, teacher, and exceptional scientist for many years."
Not only was Wang a dedicated researcher and educator, but he also took the time to contribute to the campus in other ways. Irwin "Tack" Kuntz, PhD, a professor emeritus in the department, remembers Wang's unlikely turn as a less-than-qualified hockey goalie in an ad campaign for UCSF that highlighted the university's focus on academics with the slogan, "125 years and still no sports."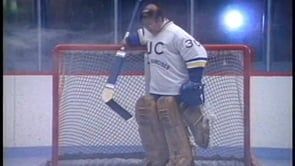 At the Wang Lab, work on parasites continued, focusing on Giardia and on trypanosomes, a type of protist responsible for the sometimes deadly sleeping sickness. Wang retired from the School in 2011, but remained a professor emeritus in the Department of Pharmaceutical Chemistry.
In 2012, Wang and his wife created the Alice and C.C. Wang Award in Molecular Parasitology, which is awarded yearly through the American Society of Biochemistry and Molecular Biology (ASBMB) to recognize recent seminal contributions to the field.
---
Tributes from colleagues
"I am happy that C.C. chose to come to UCSF—and our department in particular—after his stint at Merck. He was a cheerful presence in the department and a joy to have as a colleague. He participated fully in developing all aspects of our department, including being an enthusiastic teacher and inquiring researcher. C.C. was a key player in continually bringing modern technology and concepts into molecular parasitology." —Tom James, PhD, professor and former chair, Department of Pharmaceutical Chemistry
"I met C.C. in the early 1980s and we would have long talks about mechanistic enzymology, the pharmaceutical industry, the potential of structure-based drug design, and the beginnings of molecular parasitology. He was a total sponge for new ideas and how they could help him with his passion to advance the field of parasitology and intervene in the insidious diseases [caused by parasites]. He also talked about his culture … and when he realized I was interested, we became friends. He imparted such wisdom, knowledge, and humor over the years. Yes, he will be missed. —Charles Craik, PhD, professor, Department of Pharmaceutical Chemistry
"C.C. was a warm and generous person, with the rare ability to connect chemistry and biology at deep levels. These insights were especially important in his chosen field of parasitology where he could follow an organism through many life forms, deciding where intervention would be most effective. C.C. contributed to all phases of UCSF, cultural as well as academic." —Tack Kuntz, PhD, professor emeritus, Department of Pharmaceutical Chemistry
"C.C. was a true inspiration to all of those who worked in the field of parasitology, and he will be greatly missed. His unwavering enthusiasm and his infectious smile endeared him to everyone who knew him. He was a rigorous and passionate scientist who made numerous high-impact contributions to the field, including his early seminal contribution to understanding the mechanism of action of the antiparasitic ivermectin. He was motivated by a true enjoyment in the pursuit of new scientific knowledge. He mentored and inspired many a student and postdoc such as myself to work in the field." —Margaret A. Phillips, PhD, alumna of the Wang Lab; professor and chair, University of Texas Southwestern Medical Center Department of Biochemistry
---
More:
ASBMB Today profile: "Giving parasites their due"
In his own words: "Idealism versus Reality: The Journey of a Parasitologist"
 
---
About the School: The UCSF School of Pharmacy is a premier graduate-level academic organization dedicated to improving health through precise therapeutics. It succeeds through innovative research, by educating PharmD health professional and PhD science students, and by caring for the therapeutics needs of patients while exploring innovative new models of patient care. The School was founded in 1872 as the first pharmacy school in the American West. It is an integral part of UC San Francisco, a leading university dedicated to promoting health worldwide.