Artificial kidney project led by Shuvo Roy cited at White House panel
Artificial kidney project led by Shuvo Roy cited at White House panel
By UCSF School of Pharmacy Editorial Staff / Tue May 1, 2012
Speaking on a White House panel discussing President Obama's just-released Bioeconomy Blueprint, UCSF Vice Chancellor for Research Keith Yamamoto, PhD, cited the implantable bioartificial kidney project led by UCSF bioengineer Shuvo Roy, PhD, as a prime example of biomedical collaboration with potentially major social and economic impact.
Yamamoto, who was part of the panel of academic and industry representatives convened on April 26, 2012, noted that the bioartificial kidney, targeted for clinical trials in 2017, "is expected to dramatically improve the quality of life and survival of patients with end stage renal disease."
Roy, a faculty member in the Department of Bioengineering and Therapeutic Sciences, a joint department of the UCSF Schools of Pharmacy and Medicine, is leading the project that brings together 40 researchers in nine laboratories nationwide.
The project was recently selected to undergo accelerated collaborative review under a pilot project at the U.S. Food and Drug Administration.
Yamamoto noted the health and economic impact of end stage renal disease, which affects 1% of the U.S. population but consumes 7% of the Medicare budget. The national cost of treating end stage renal disease is $40 billion, of which $30 billion is paid by Medicare. Meanwhile, kidney transplants meet only a fraction of the demand and hundreds of thousands of patients rely on in-clinic dialysis treatment, with "severely compromised" quality of life and only 35% of patients surviving after five years.
Video of White House panel
UCSF Vice Chancellor Keith Yamamoto, PhD, speaks at the 35-minute mark: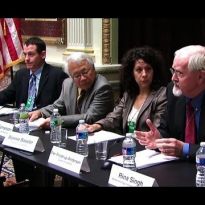 More information
---
About the School: The UCSF School of Pharmacy is a premier graduate-level academic organization dedicated to improving health through precise therapeutics. It succeeds through innovative research, by educating PharmD health professional and PhD science students, and by caring for the therapeutics needs of patients while exploring innovative new models of patient care. The School was founded in 1872 as the first pharmacy school in the American West. It is an integral part of UC San Francisco, a leading university dedicated to promoting health worldwide.