Stebbins and Lipton receive Boggess Award
Stebbins and Lipton receive Boggess Award
By UCSF School of Pharmacy Editorial Staff / Wed Feb 10, 2010
UCSF School of Pharmacy faculty members Marilyn Stebbins, PharmD (image left), and Helene Levens Lipton, PhD (image right), received the 2010 Jane Boggess Advancement of Pharmacy Practice Award from the Pharmacy Foundation of California during the California Pharmacists Association February 4-7, 2010, meeting in Long Beach, California.
The award recognizes broad adoption of one or more non-traditional pharmacy services that improve public health. In this case, the award marks Stebbins and Lipton's creation and leadership of a pharmacist-directed statewide education and outreach program. Their program, which is called Partners in D, is aimed at helping underserved seniors get the most from the Medicare Prescription Drug Coverage program, known as Medicare Part D. Partners in D involves 7 pharmacy schools in California, their student pharmacists and faculties, and community partners throughout the state.
Launched in January 2006, Medicare Part D offers prescription drug coverage to all Medicare participants who enroll, regardless of income, health status, or prescription drug use. With scores of options, Medicare Part D can be confusing to seasoned health care providers and savvy health care consumers alike. The online registration form can be especially challenging to seniors.
While Medicare offers telephone and online guidance and enrollment for its drug plans, many seniors do not have easy telephone or computer access, and many seniors are not computer-savvy. There is an even greater need for individual assistance among low-income and non-English-speaking seniors. Stebbins, who is a specialist in primary care pharmacy, managed care pharmacy, and Medicare Part D, faced this need directly with the underserved senior patients she served as the pharmacy benefit manager of a large medical group in Sacramento, California. Lipton, a health policy expert, had been closely following the rollout and impact of Medicare Part D on various stakeholders, including patients, providers, and policymakers.
Their expertise was a natural fit, and from their collaboration the Partners in D program evolved. Its statewide application was made possible by a $3.7 million grant from the Amgen Foundation that supports the program for three-and-a-half years.
As part of the Partners in D program, student pharmacists from 7 California schools of pharmacy become Medicare Part D experts through special coursework and mentoring provided by pharmacy faculty members. More than 20 California pharmacy school faculty members have been involved with Partners in D. The students share their knowledge--laptop computers in hand--in one-on-one counseling sessions with seniors in community and clinic settings, as well as in lectures to their medical student peers and to physicians.
As of February 8, 2010:
More than 3,000 student pharmacists had been trained on Medicare Part D as a major component of health insurance and health care for Medicare beneficiaries
More than 1,500 health professional students and physicians had attended a Partners in D peer-to-peer lecture given by student pharmacists
995 student pharmacists had participated in Partners in D sessions, counseling more than 1,609 patients.
Each Partners in D program component is research-based with the goal of developing new evidence-based models for meeting the Medicare Part D needs of the underserved.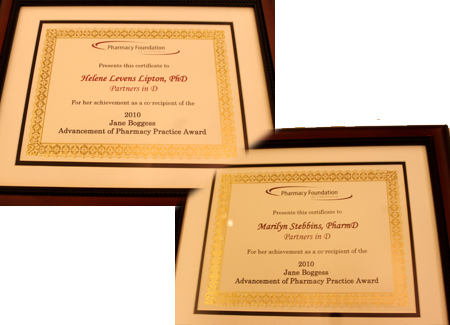 "Lipton and Stebbins each bring their own special expertise to the Partners in D program. Lipton offers her social science training, success in novel teaching methods, and longstanding interest in health policy. Stebbins offers deep knowledge of the Part D benefit and a long and successful history of medication therapy management and working directly with patients and physicians to maximize patients' drug options and access," comments Kathryn Sáenz Duke, JD, MPH, founding director of Medicine for People in Need and former member of the Partners in D advisory board. "This duo has masterfully engaged pharmacy faculty members statewide, while empowering a new generation of student pharmacists as leaders and teachers to their health professional peers who will be dispensing, prescribing, and/or managing medications for older patients."
---
About the School: The UCSF School of Pharmacy is a premier graduate-level academic organization dedicated to improving health through precise therapeutics. It succeeds through innovative research, by educating PharmD health professional and PhD science students, and by caring for the therapeutics needs of patients while exploring innovative new models of patient care. The School was founded in 1872 as the first pharmacy school in the American West. It is an integral part of UC San Francisco, a leading university dedicated to promoting health worldwide.