Quantitative Biosciences Institute
The Quantitative Biosciences Institute (QBI) applies computation, mathematics, and statistics toward a deeper understanding of complex problems in biology, with the ultimate goal of developing new treatments for disease. The institute currently focuses on conditions such as breast cancer, head and neck cancer, psychiatric disorders including autism, bipolar disorder, and schizophrenia, and the relationships between infectious diseases and their hosts.
QBI is a University of California Organized Research Unit (ORU); its faculty affiliates work in collaboration with researchers from across the University of California and beyond.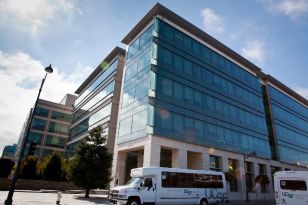 Nevan Krogan, PhD
, is the director of QBI. He is a professor in the UCSF School of Medicine and a senior investigator at the
Gladstone Institutes
. He holds a joint appointment in the School of Pharmacy's
Department of Pharmaceutical Chemistry
. QBI was named in March 2016 and was formerly known as the Molecular Design Institute, which was founded in 1993. Many UCSF School of Pharmacy scientists are closely affiliated with QBI, and the director reports through the School of Pharmacy
Dean's Office
to Dean
B. Joseph Guglielmo PharmD
.