Guo applies curiosity and collaboration to research
Guo applies curiosity and collaboration to research
By Katherine Krebs / Thu Sep 14, 2017
"There are lots of important problems. Only attack those for which you can divine simple experiments with clear answers." —Julius Axelrod
This quotation is a guiding principle for Su Guo, PhD, professor in the Department of Bioengineering and Therapeutic Sciences (BTS). Her research employs the unique strengths of a simple vertebrate, the zebrafish (Danio rerio), to address a wide variety of topics related to neuroscience.
Guo, who was born in Suzhou, grew up moving around several other cities in China; she went to college at Fudan University in Shanghai. As a young girl, she recalls stories about Mme. Marie Sklodowska-Curie told to her by her father, a historian. And what better idol to inspire a budding scientist? Sklodowska-Curie earned two Nobel prizes and, to this day, has enormous influence worldwide. After reading her favorite book Nobel Prize Women in Science: Their Lives, Struggles, and Momentous Discoveries, by Sharon Bertsch McGrayne, Guo says, "Experiencing the challenges they faced and the excitement they felt at the moment of a new discovery is truly eye-opening."
Guo was drawn to research about the brain and the mind. "Shortly before completing my PhD studies at Cornell, I was looking for new challenges. The complexity of the brain—ranging from a physiological aspect (such as motion control) to a psychological perspective (such as emotion, motivation, and cognition)—fascinated me," she said.
Now a principal investigator at the UCSF School of Pharmacy, Guo applies expertise in molecular biology, genetics, and cell biology to questions in developmental and neurobiology. She believes that curiosity and a collaborative attitude are key to successful scientific inquiries.
"Su is changing the way we think about brain development. She brings a multidisciplinary approach to better understanding some of the human body's most complex biology." —Tejal Desai, PhD, chair, Department of Bioengineering and Therapeutic Sciences
The Guo Lab members are a close-knit, friendly bunch from all over the world. Together their research interests include:
stem cells
brain development
neural circuitry and behavior
cancer
neurodegeneration
neuropsychiatric diseases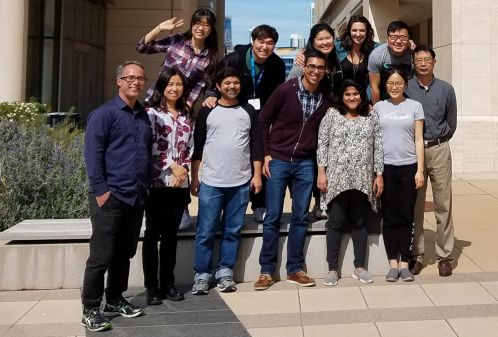 "We aim to fundamentally understand how the brain works, which is key to treating developmental, degenerative, and psychiatric neurological disorders," she said.
Looking ahead, Guo says, "In the near term, I hope to push out a couple of significant stories related to our work on brain development, maintenance, and function. In the long term, I hope to discover leads for disease-modifying therapeutics to treat neurological diseases, and currently Parkinson's disease is on the top of our list."
Guo has received recognition for many publications, including:
Dong, Z., Yang, N., Yeo, S., Chitnis, A., and Guo, S. (2012) Intra-lineage Directional Notch Signaling Regulates Self-renewal and Differentiation of Asymmetrically Dividing Radial Glia. Neuron 74: 65-78 PMCID: PMC3466114
Gerhke, S., Wu, Z. Klinkenberg, M., Sun, Y., Auburger, G., Guo, S.*, Lu, B. * (2015) PINK1 and Parkin Control Localized Translation of Respiratory Chain Component mRNAs on Mitochondria Outer Membrane. Cell Metab. 21(1): 95-108 (* co-corresponding author).
Wagle M, Nguyen J, Lee S, Zaitlen N, Guo S. (2017) Heritable natural variation of an anxiety-like behavior in larval zebrafish. J. Neurogenet. Jul 5:1-11.
"Su is changing the way we think about brain development," said BTS Chair Tejal Desai, PhD. "She brings a multidisciplinary approach to better understanding some of the human body's most complex biology."
In addition to her research and publication activity, she has received significant grants from:
NIH/NINDS: Asymmetric Cell Division in Vertebrate Brain Development. This research will reveal new molecular and cellular mechanisms that regulate neural stem cell self-renewal and differentiation.
NIH/NIDA: Explore in vivo functional connectivity at cellular resolution in drugged brains. The goal of this project is to pave a way to uncover network signatures that predict susceptibility to drug abuse and characterize addiction-like states, and moreover to bridge a critical gap between molecules and behaviors associated with drugs of abuse.
NIH/NIMH: Functional connectivity at cellular resolution in brains with mutations in ASD genes. The research described in this proposal will establish a new system for understanding how disruption of genes alters brain connectivity. In the long run, new basic knowledge about gene and brain connectivity relationships will aid in developing novel therapeutic ideas.
It can be difficult for someone as focused and dedicated as Guo to shift gears. To relax, Guo enjoys watching movies with her children. And, like many working parents, she sometimes finds it a challenge to meet her many work and family obligations. "Driving on the Bay Bridge one day, coming back from a symposium at UC Davis, I received a phone call from my son's after-school teacher (his first day at the after-school!), that I forgot to pick him up," she said. Other multi-tasking parents can certainly relate.
In cases like that, Guo finds it helpful to recall one of her favorite quotations, from Albert Einstein: "Out of clutter, find simplicity. From discord, find harmony. In the middle of difficulty lies opportunity."
 
---
About the School: The UCSF School of Pharmacy is a premier graduate-level academic organization dedicated to improving health through precise therapeutics. It succeeds through innovative research, by educating PharmD health professional and PhD science students, and by caring for the therapeutics needs of patients while exploring innovative new models of patient care. The School was founded in 1872 as the first pharmacy school in the American West. It is an integral part of UC San Francisco, a leading university dedicated to promoting health worldwide.