A decade of launching rockets, cardboard boats—and kids into STEM
A decade of launching rockets, cardboard boats—and kids into STEM
By Janet Wells / Tue Jun 20, 2017
Part of our series
Ten years of kids exploring the facts—and fun—of science
UCSF's Summer Science Camp has inspired a generation of young students to pursue education and careers in science, health care, engineering, and technology.
Ten years ago, at the inaugural UCSF Summer Science Camp, 10-year-old Najwa Anasse held a human brain in her hands—an "Aha!" experience that set her career path.
"I thought, 'Oh my god, I want to study this.' I was so excited," says Anasse, who grew up in San Francisco's Excelsior District and was a fifth grader at Alice Fong Yu Elementary School at the time.
Now heading toward her senior year at Wesleyan University, with a double major in neuroscience and biology, Anasse is working this summer at the Gladstone Institutes in San Francisco, researching degenerative neurological conditions, including amyotrophic lateral sclerosis (ALS or Lou Gehrig's disease), and Parkinson's and Huntington's disease. Her long-term goal: medical school and neurosurgery.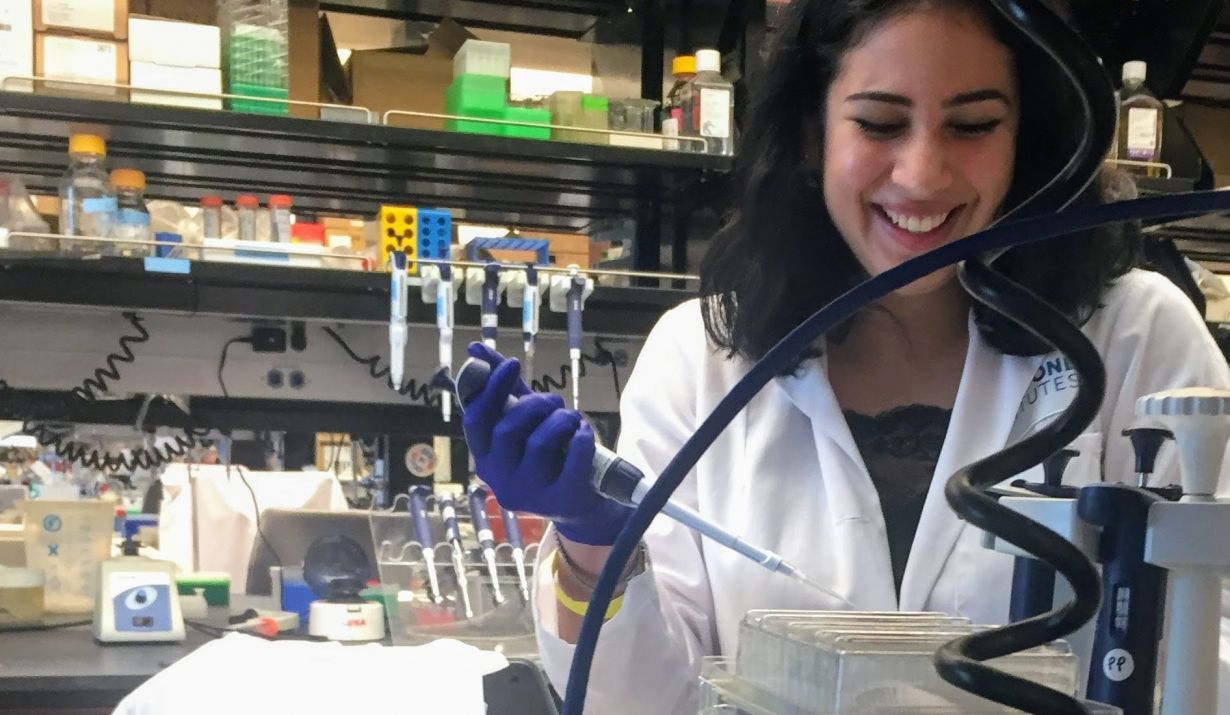 "Science Camp is why I'm in science now," says Anasse. "It was the first time I was exposed to all of these activities where we had to come up with our own solutions."
The "egg drop" was one of those tasks. "We had to figure out how to drop it six stories and have it not break," she recalls. Her egg didn't survive the fall, and she still remembers the lesson she received in aerodynamics: "I figured out from the handful that didn't break that the trick was to have big airy packaging around it, so it fell a lot more slowly."
Anasse, who served as a Summer Science Camp counselor when she was in high school, returns this year to share her journey into science as part of the tenth anniversary camp session.
Inquiry-based science and "blowing stuff up"
The original force behind UCSF's Summer Science Camp was Heather Hertema, PharmD '10, who created the program when she was a first-year student pharmacist. "When I got to campus that fall, I was impressed with the strong push for getting students who were minorities into health professions. But first you have to get minority students to major in science," she says.
"One of the reasons I was so passionate about the science camp and working with kids is that I wouldn't have gone into science if didn't have a dad who was an engineer," adds Hertema, who will also talk about her experiences as a scientist at camp this year. "So many people aren't exposed to science."
Each year since 2007, the camp has brought up to 55 fifth- and sixth-grade underrepresented minority students in San Francisco to the UCSF campus for a free week of hands-on, inquiry-based science—which includes, as Hertema puts it, "blowing stuff up."
By learning to build—and launch—bottle rockets and cardboard box boats, make ice cream with liquid nitrogen, discover the secret to lava lamps, and get up close and personal with live insects, campers engage in critical thinking and creative problem solving.
"It's amazing. You can have fun and effect change in these kids' lives. Whether or not they go into science, thinking critically is so important," says Hertema, who was the 2009 student recipient of the Chancellor Award for Public Service for her exceptional leadership in establishing the camp and fostering its early success.
Now a partnership between the School of Pharmacy, the School of Dentistry, and UCSF's Center for Science, Education, and Outreach, Summer Science Camp also provides the opportunity for youth to interact with volunteer graduate students, campus scientists, and health professionals who serve as counselors, role models, and educators.
"The camp has been a spectacular success for the campers—they're having fun while developing scientific thinking skills," says Dean B. Joseph Guglielmo, PharmD. "Behind it all are the passion, collaboration, and leadership, over 10 years now, of our amazing pharmacy and dentistry students."
Looking at the world "through a scientist's lens"
Campers are introduced to the scientific method on day one, says 2017 camp co-director Kristy Hwang, who will be a third-year PharmD student in the fall. "With the bottle rockets, we teach them about aerodynamics, and what makes things fly faster. With the boats, we talk about density, and what makes things float.
"We always go back to science, and hope that the skill of looking at things through a scientist's lens will continue on through their education," adds Hwang, who was a camp counselor last summer. "It's good to have that critical thinking with any field, whether science or the humanities."
While the campers' enthusiasm doesn't waver during the week—it's high from day one—their grasp of the scientific method blossoms, says School of Dentistry student Sarah Pi, another 2017 camp co-director who volunteered as a counselor last summer.
"They were able to ask more questions, not just doing the projects, but in thinking about the science behind the projects," says Pi. "With the boat project, we only give them a cardboard box. They use what they learn to enhance their boat before they race each other across the pool until the boat breaks apart."
Last year's campers, adds Pi, "were really creative. Some kids brought in floaties or two-liter bottles. It's a good integration of everything they learned. A lot of the kids went away from camp wanting to pursue something in science."
And, that, says camp faculty advisor Jay Levy, MD, professor of medicine and director of the Laboratory for Tumor and AIDS Virus Research, is exactly the point. "The kids have the most terrific questions. It's exciting. You see their eyes open as they learn new things."
Levy, who has helped raise funding to support the camp, as well as participating as a faculty speaker, is as enthusiastic as the campers: "I see the potential of getting these students at that young age and showing them that science is approachable, it's fun, and it's interesting to solve problems."
Part of our series
Ten years of kids exploring the facts—and fun—of science
In 2007, UCSF held its first Summer Science Camp. Since then, more than 500 fifth- and sixth-grade students from underserved communities in the San Francisco area have had a week of hands-on fun learning the science behind bottle rockets, flotation, slime, gravity, and DNA extraction.
We catch up with a camp alumna who is studying neuroscience in college, speak to camp founder, Heather Hertema, PharmD '10, and go to camp to see kids build and launch bottle rockets.
---
About the School: The UCSF School of Pharmacy is a premier graduate-level academic organization dedicated to improving health through precise therapeutics. It succeeds through innovative research, by educating PharmD health professional and PhD science students, and by caring for the therapeutics needs of patients while exploring innovative new models of patient care. The School was founded in 1872 as the first pharmacy school in the American West. It is an integral part of UC San Francisco, a leading university dedicated to promoting health worldwide.