Thinking it through in pharmacy school, the UCSF way
Thinking it through in pharmacy school, the UCSF way
By UCSF School of Pharmacy Editorial Staff / Mon Mar 13, 2017
Part of our series
The Part D learning experience—10 years on
UCSF PharmD alumni share their thoughts on how a unique learning program, pioneered at the School, is impacting their careers.
Gina Ko, in a crisp white lab coat, sits in a San Francisco clinic office across the desk from Rose, a low-income senior on Medicare, talking with Rose about how she can get the medications she needs at a price tag she can afford.
Rose is anxious and unsure about how to decipher and sign up for the complicated new federal drug benefit called Medicare Part D. She pulls one pill container after another from her shopping bag, each bottle holding a different prescription medication.
"I'm on a fixed income—it can't be done," she says. "Throw them all up in the air and catch one—and just say, I guess you're the lucky one, I get to renew you today."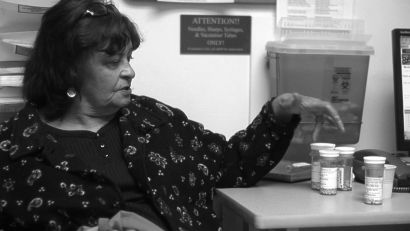 As a young UC San Francisco doctor of pharmacy (PharmD) student, specially trained to evaluate medication access problems and find solutions, Gina carefully considers the situation and pinpoints, from among scores of plans, the best Part D drug plan for Rose.
"I didn't know they would go to this extent," says Rose, "where they would really work for me and with me."
Neither Rose nor Gina knew that their conversation—and others like it that day some 10 years ago now—would be part of a long-term program shared across California pharmacy schools that would change how student pharmacists learned to meet the Medicare Part D needs of their patients and share their expertise with health care provider peers.
From Medicare Part D problem to solutions
"The Medicare Part D program Gina participated in is a good example of how we approach pharmacy education here," says Marilyn Stebbins, PharmD, UCSF School of Pharmacy faculty member.
"As pharmacists, we may work under protocols, to be sure," she explains, "but there's no one perfect solution to a particular problem that will work for every patient … especially when it comes to their meds. So we want students not only to master the facts, but also to learn how to spot and solve problems and to think, think, think—from all angles."
Stebbins describes how this approach played out in 2006, when UCSF PharmD students jumped in and started what eventually became a two-part student learning strategy: a for-credit Medicare Part D Outreach elective course and a not-for-credit volunteer Peer Educator Program. Both are still going full-tilt at UCSF, albeit adapting with changing times from the 2006 pilot run.
Why the ongoing need? Despite the introduction of the Medicare Part D drug benefit in 2006, many older and lower income adults still fail to take drugs as prescribed (non-adherence). One reason for non-adherence is drug cost, and cost-related non-adherence—which affects non-Medicare patients as well—is associated with poorer health outcomes that cost the health care system billions of dollars a year.
Through Medicare Part D Outreach and the Peer Educator Program, UCSF student pharmacists begin to master the Medicare facts and hone the critical thinking and communication skills needed to go into the community and help individual seniors take full advantage of the Part D benefit. At the same time, they gain the skills needed to teach other health care students and providers how to help their patients get the most out of Part D. At the core of this type of learning is the ability to think critically, adjust the approach, solve problems, and address questions one patient and one health-provider peer at a time.
Connecting patients with the best Part D plan
Each fall, UCSF student pharmacists can take an elective course that trains and then deploys them into the community to serve as patient advocates, helping underserved seniors navigate the complex Medicare Part D drug benefit.
This approach embodies the School's focus on critical thinking and problem solving. It also reinforces interdisciplinary learning by enrolling UCSF medical and nursing students, who work in teams with student pharmacists during outreach sessions. The students counsel Medicare recipients where they live and gather, helping seniors who are largely low-income, frail, and often non-English-language speakers to select the most affordable and clinically appropriate plan for their needs.
Students in the elective course start by doing their own case studies, using the same online tool Medicare seniors use to choose a plan. They then view eight hours of video lectures outside of class, studying the benefit details and learning skills for working with culturally diverse seniors. On the first weekend of Part D open enrollment, they attend a morning demonstration where they observe a counseling session and then practice their skills; in the afternoon, they attend an actual four-hour Part D outreach event and help seniors enroll in the correct plan for them.
Expanding reach of students' expertise
Each year, several student pharmacist volunteers are chosen—through a selective interview process—to undergo intensive training with School of Pharmacy faculty mentors to hone their public speaking skills and expand their knowledge of drug-cost containment and assistance strategies. They then deliver 60-minute case-based lectures to other health care professionals and students, illustrating how they can help patients afford their prescribed medicines.
Venues have ranged from campus health policy classes to medical grand rounds; from campus and regional hospitals to as far afield as Massachusetts General Hospital in Boston and Memorial Sloan Kettering Cancer Center in New York City.
Over the years, the Peer Educator lectures have evolved well beyond their original focus on explaining the Medicare Part D drug benefit. Recent years' versions of the regularly updated presentations have included equally detailed segments on helping patients get the best drug coverage via the federal Affordable Care Act (a.k.a Obamacare), as well as on helping the underinsured—insured patients who still have trouble affording their medications.
[Editor's note: At date of publication the future of the federal Affordable Care Act is uncertain, pending the outcome of a bill now before the U.S. House of Representatives to repeal and replace the act.]
Real-world results
Both components of the program have shown real-world results. One analysis of Part D outreach efforts found that more than 89 percent of the beneficiaries who were counseled could reduce their out-of-pocket costs by choosing a different prescription drug plan within Medicare Part D. Meanwhile, published studies of the Peer Educator Program found major increases in audience knowledge of strategies to cut patients' out-of-pocket drug costs.
Over the past decade, both the outreach course and lectures have raised the awareness and expertise levels of UCSF-trained pharmacists in tackling issues of drug affordability. In the case of the Peer Educator lectures, they have also further honed interprofessional communication skills.
Indeed, beyond the drug access and affordability tips that Peer Educators share during their presentations, the lecture venue puts pharmacists front and center as expert health care resources and problem solvers. As fellow providers, pharmacists are uniquely positioned to suggest, say, less expensive generics or formulary-covered bioequivalent medications while also knowing the ins and outs of deductibles, co-pays, and prior authorizations.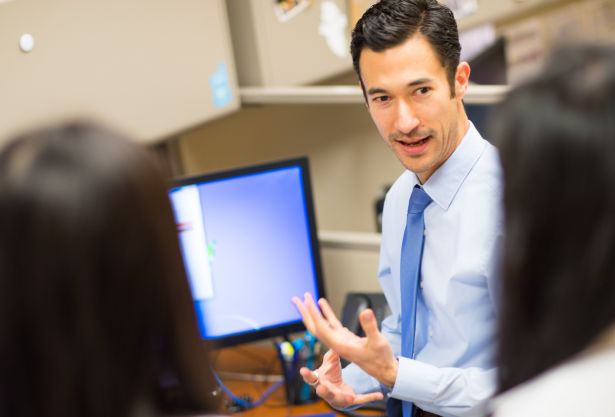 In an era when health care is increasingly delivered via interdisciplinary teams, "We educate our audiences about the roles and contributions of pharmacists as drug-cost experts," says program co-founder and now faculty member emeritus Helene Lipton, PhD.
Troy Drysdale, PharmD '08, a co-founder of the two-part program when he was a student pharmacist, concurs, recalling the Peer Educator lectures: "We were really advocating for and presenting ourselves—pharmacists—as a resource, by saying, 'Hey, we understand you only have a few minutes for a patient. You may not be able to do 100 percent of it [addressing drug affordability] on your own. But we're here to help. We can complement the work you're doing with our own expertise. We're your colleagues and we want you to utilize us.'"
---
Grassroots beginning
How did it all begin? The Medicare Part D Outreach and Peer Educator Program were born with the arrival of the Medicare Part D drug benefit in 2006. The benefit offered prescription drug coverage to tens of millions of U.S. citizens aged 65 and older and to millions of younger people with certain disabilities and diseases.
As Drysdale, who helped ignite the program with classmates Dave Smith, PharmD '08, and Tony Chung, PharmD '08, recalls: "It started out as the most grassroots thing you can imagine. A couple of us started reading about this new Medicare Part D, and we just realized people are not going to understand it. Everyone was ill-equipped to deal with it—and that included us as pharmacists in training—so we decided it ought to start with us."
The students put up flyers and announced in classes that they would be offering a lunchtime presentation on the new drug benefit. In short order, they also reached out to Stebbins, Lipton, and School faculty member Timothy Cutler, PharmD.
The three served as mentors for a pilot outreach program, training nearly 100 students who used their own laptops and cell phones—plus a combined fluency in five languages—to access Medicare resources and to counsel hundreds of underserved seniors before Part D's very first sign-up deadline.
Lipton, a health policy expert, then prepared five of those student outreach volunteers to stand in for her in presenting a lecture on Part D to 150 UCSF advanced practice nursing students, thus creating a model for the Peer Educator initiative.
In late 2006, Lipton and Stebbins applied for and received a five-year $3.7 million grant from the Amgen Foundation, which allowed them to develop a formal training program and materials that helped disseminate the two-pronged initiative—then dubbed "Partners in D"—to six other pharmacy schools in California. Several schools continue to include Part D outreach in their curricula.
Continuation of the program here has been aided by funds from a 2011–2012 national award for student community service from the American Association of Colleges of Pharmacy.
"Looking back, it's clear that the whole effort is a prime example of what you'd call the can-do way our students approach things," explains Stebbins. "They go beyond…they're the ones who saw Part D as a blessing and a problem to tackle."
Part of our series
The Part D learning experience—10 years on
10 years ago, a distinctive program was created by UCSF School of Pharmacy students and faculty members to help low-income seniors afford their prescribed medications through the federal Medicare Part D drug benefit and to teach health care provider peers how to navigate the benefit with their patients.
We spoke to UCSF PharmD alumni who participated in this program to find out if the lessons learned have carried over to their careers.
---
About the School: The UCSF School of Pharmacy is a premier graduate-level academic organization dedicated to improving health through precise therapeutics. It succeeds through innovative research, by educating PharmD health professional and PhD science students, and by caring for the therapeutics needs of patients while exploring innovative new models of patient care. The School was founded in 1872 as the first pharmacy school in the American West. It is an integral part of UC San Francisco, a leading university dedicated to promoting health worldwide.