Three generations reflect shifts in nation, pharmacy profession
Three generations reflect shifts in nation, pharmacy profession
By David Jacobson / Wed Oct 19, 2016
When Megan Lau donned her white coat with fellow student pharmacists in the incoming class of 2020 last week, it was more than your standard rite of professional passage.
Lau is the third generation of her family to attend the UCSF School of Pharmacy—her mother and both her late maternal grandparents earned their pharmacy degrees here. (She was even born at UCSF Medical Center, a short stroll and elevator ride from the ceremony's site in Cole Hall on the Parnassus campus.) And her family's generational journeys to and through the profession have had unique twists, reflecting historical shifts in both the nation and pharmacy practice.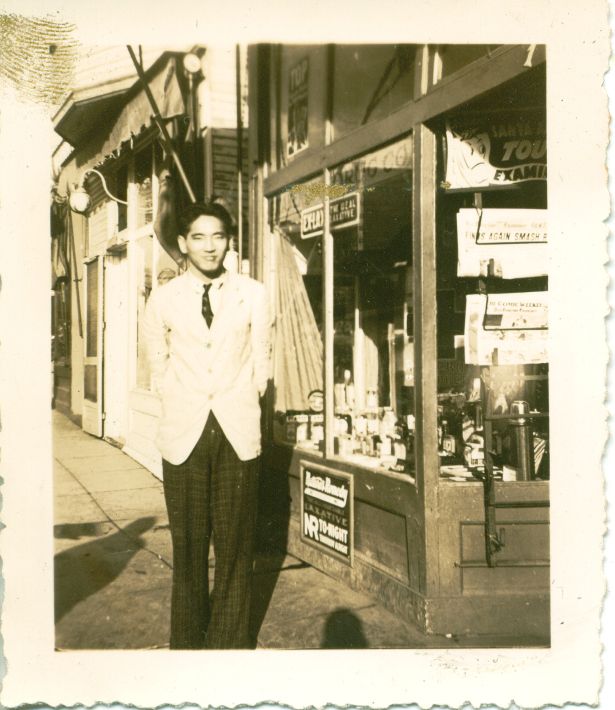 Lau's grandfather, Samuel Shigeru Kitabayashi, earned his bachelor's degree in pharmacy in 1939, from the College of Pharmacy of the University of California, the School's forerunner (the PharmD degree was established later, in 1955). After graduation he ran his own community pharmacy in Stockton.
But Kitabayashi had to relinquish the business when, in the xenophobic wake of Pearl Harbor, he and more than 120,000 Japanese Americans and nationals were forcibly relocated, by presidential order, to internment camps.
Confined behind barbed wire at the Heart Mountain Relocation Center in Wyoming, Kitabayashi continued to practice pharmacy. But his work there was interrupted when he was hospitalized for treatment of tuberculosis. That's how he met hospital volunteer and fellow internee, Ruriko Ando.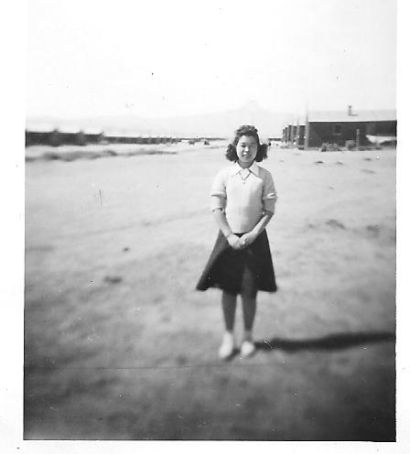 Ando had been a high school valedictorian in the town of San Martin near San Jose, taking her final exams early before being sent to the camp. In family lore, Sam's first attempt to speak to Ruriko went badly awry. She dropped his food tray and bolted from the room, fearful of risking infection.
After they were able to return to the Bay Area, Sam and Ruriko reconnected and he inspired her to pursue her own pharmacy degree. (In fact, Kitabayashi was so passionate about pharmacy that on several occasions he convinced others to go into the profession.)
Ando graduated in 1949. She and Sam married in 1955 and for a time worked together as pharmacists for the Contra Costa county public health system. He spent most of his career there, including serving as pharmacy director of the county hospital in Martinez.
After raising children, Ando became a discharging medication pharmacist at Mt. Diablo Hospital in Concord. (This pharmacist role—providing medication and counseling to patients leaving the hospital—later fell out of favor due to difficulties in recouping costs. But aspects of it have reemerged at many institutions, including UCSF, in interdisciplinary efforts focused on ensuring patient safety during the transition of care from hospital to home.)
Making a beeline to pharmacy
Ruriko and Sam's daughter, Sharon (McPartland) Leaf, PharmD '81, grew up wanting to be a pharmacist from the age of three. That's when she vividly recalls her father observing her pour liquids from one glass to another.
"He said, 'A pharmacist has to be able to pour things and be careful and not spill them. And I think you would be good at that,' " Leaf remembers. "And my three-year-old mind was like, 'Yeah! Dad says I could do this and be good at this!' I mean, he was always my hero. So that's how it started."
Childhood visits to the hospital pharmacy followed, watching her father and his colleagues compounding and filling drug orders. In high school she volunteered there, filling bottles with pharmacy-made anise-scented throat lozenges.
Completing her prerequisites at UC Berkeley, Leaf made a beeline for UCSF, starting pharmacy school at age 19. She married during her School years and gave birth to Megan's older sister, Shannon, during the third-year Christmas break.
Attending the School in the generation following the Ninth Floor Pharmacy Project, Leaf was trained in the then-new clinical curriculum. Upon graduation, she avoided hospital work because, at that time, pharmacists in such settings were often still relegated to order filling rather than interacting with patients and fellow providers, as in the new practice model emerging from UCSF.
Instead, Leaf went to work in an outpatient clinic and an HMO. In the latter, working under then-newly legalized protocols with physicians, pharmacists were authorized to check lab results, manage refills in compliant patients, and run the weekend triage desk.
For more than two decades, Leaf has worked at the Peralta Outpatient Pharmacy of Sutter Health Alta Bates Summit Medical Center in Oakland, where she is currently pharmacist in charge. Pharmacist roles there can include discharge medications, handling complex cases, and consulting with physicians.
Along the way, her dad's enthusiasm for the profession has been richly confirmed. "I like interacting with the patients," says Leaf. "I like feeling that I made a difference in people's lives and health."
Third generation's pharmacy epiphany
When Sharon Leaf's younger daughter, Megan Lau, was making education and career decisions, she initially rejected the idea of following in the family footsteps: "I was like, 'No way, I'm my own person. I'll blaze my own trail.' "
As a UC Davis undergraduate, Lau double-majored in psychology and plant biology. After graduation, she went into a PhD program to become a psychotherapist, but eventually changed course, trading that intensely interpersonal realm for laboratory-sequestered work as a plant geneticist. She was successful in the latter role, even being named an inventor on the gene patent for a type of corn.
But after hitting 30 and having a daughter of her own, she came to her pharmacy epiphany: "I was like, 'Oh my god, my mom was right!'… I realized after working for 10 years that everything I'd picked had something in common with pharmacy but none pulled it all together. Pharmacy is really science based but it's also very people centered."
"Because I love science, I'm such a science geek," she says. "But I also really like people. So doing bench work, while it's fun and fulfilling, when you're creating drought-resistant corn you don't get to see the people who are reaping the benefits. When you're working in pharmacy, you're actually directly impacting somebody's life."
Indeed, when Lau heard about pharmacy as a child from her grandparents and parents, it was about their community and clinical practices. But she expects to combine her lab experience with a UCSF PharmD, and go into medication research: "I'm fortunate enough to come in while the field of pharmacy is making still another shift, and there's a lot of opportunity in drug discovery working with biotech companies."
Last week, Leaf watched, teary-eyed, as her daughter took the Oath of a Pharmacist with the newly white-coated class of 2020. "It was incredible," she says. "My folks would just be thrilled, especially my father. He would just be over the moon with Megan going to pharmacy school."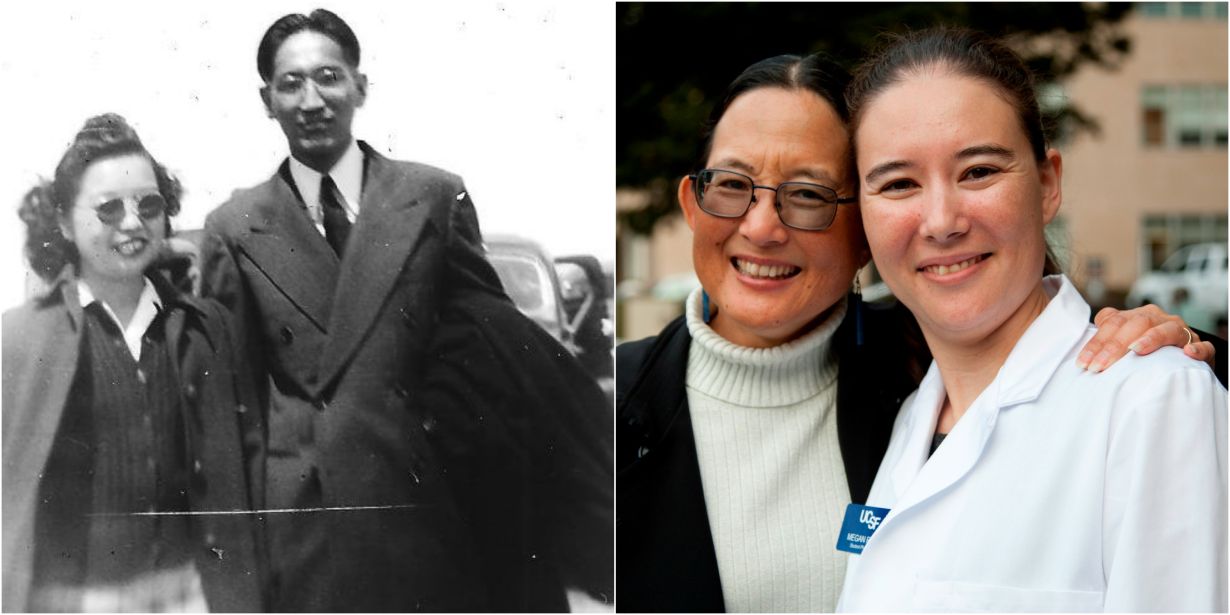 Image credit: 
Left: Courtesy Megan Lau; Right: Cindy Chew
---
About the School: The UCSF School of Pharmacy is a premier graduate-level academic organization dedicated to improving health through precise therapeutics. It succeeds through innovative research, by educating PharmD health professional and PhD science students, and by caring for the therapeutics needs of patients while exploring innovative new models of patient care. The School was founded in 1872 as the first pharmacy school in the American West. It is an integral part of UC San Francisco, a leading university dedicated to promoting health worldwide.