Pharmacy Alumni Weekend Report
Pharmacy Alumni Weekend Report
By UCSF School of Pharmacy Editorial Staff / Wed Apr 27, 2016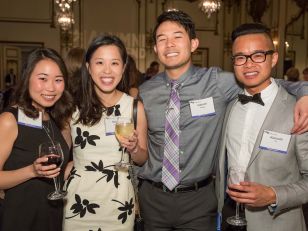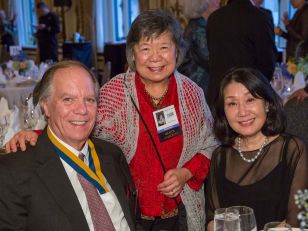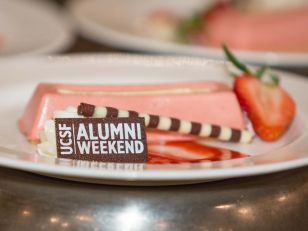 Some 250 UCSF School of Pharmacy graduates reconnected with classmates, rekindled friendships, and learned about the latest work across schools and the Graduate Division during Alumni Weekend 2016, held April 8 and 9, and headquartered at the Fairmont San Francisco Hotel.
Gibson receives standing ovation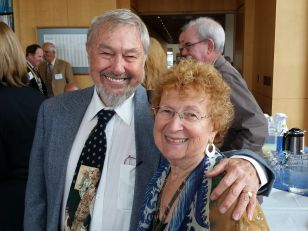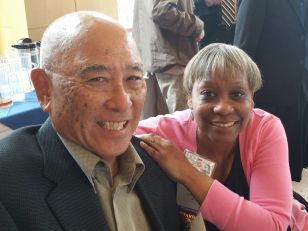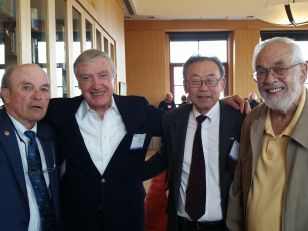 School highlights include the Friday Half-Century Club Luncheon, honoring alumni who graduated five decades ago. Receiving a standing ovation from fellow alumni at the luncheon was Robert Gibson, PharmD, now 91 years old and the first African American to receive a doctor of pharmacy (PharmD) degree from UCSF.
Today's health care politics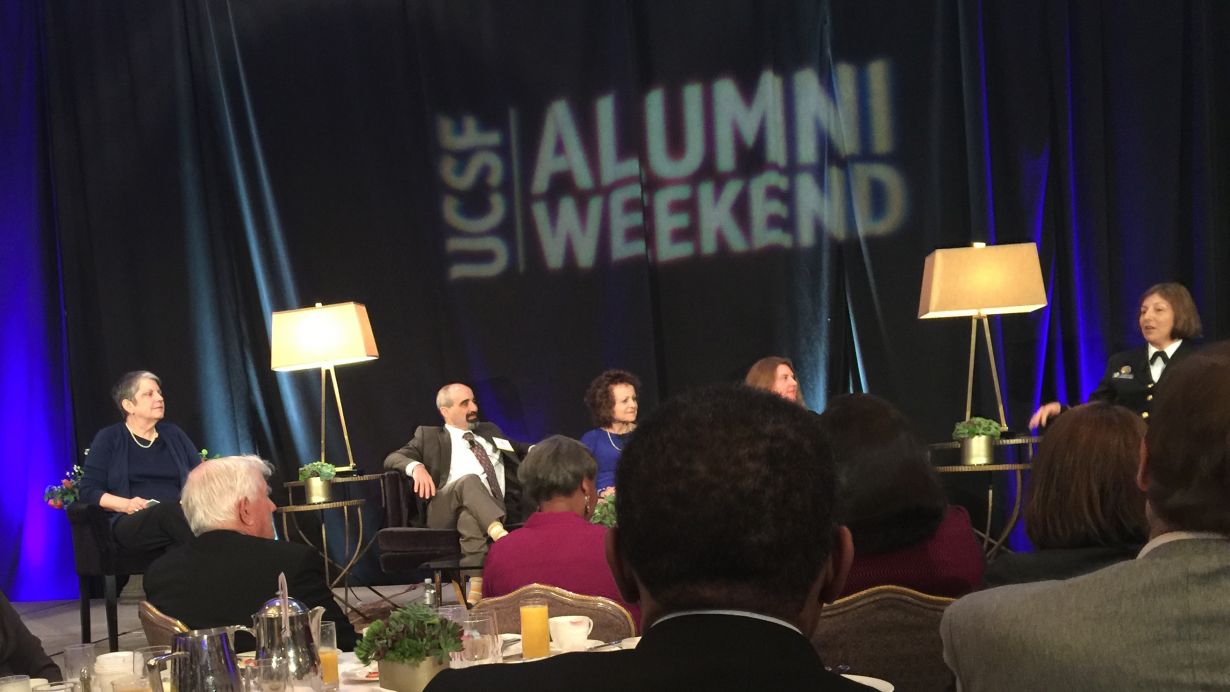 On Saturday, UC President Janet Napolitano moderated the Chancellor's Breakfast and Alumni Roundtable, where School alumna Rear Admiral Pamela Schweitzer, PharmD, along with fellow UCSF alumni, discussed the 2016 presidential election through the lens of health care. Napolitano ended the session questioning what each panelist would ask of a presidential contender about health care if given the opportunity. Schweitzer's response: "I'd ask Hillary how I could help her plan succeed!"
Revisiting our history, focusing on our future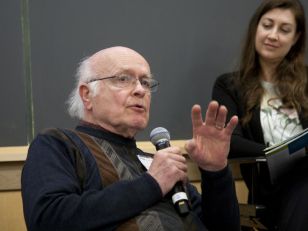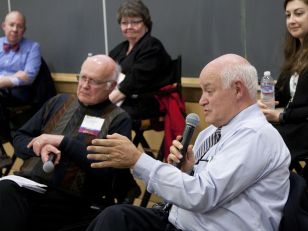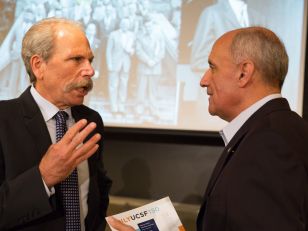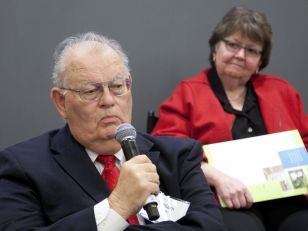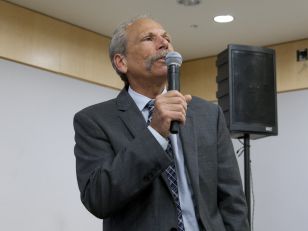 Later, alumni explored the interplay of pharmacy education and practice during the Saturday Pharmacy Afternoon Program. On hand were veterans of the 1960s Ninth Floor Pharmacy Project, a then-radical joint venture between UCSF Medical Center and the School to transform pharmacists from drug experts to clinicians and to improve medication systems. That project sparked a transformation of the School's PharmD curriculum into a clinical course of study for pharmacy students that was based on exceptional science and real workplace pharmacy practice experiences.
Joining the veteran Ninth Floor Project threesome of William Smith, PharmD, MPH, PhD, FASHP; Robert Day, PharmD; and David Adler, PharmD were three current faculty members—Marcus Ferrone, PharmD, JD; Patricia Babbitt, PhD; and Mitra Assemi, PharmD—who are today deeply involved in transforming the PharmD curriculum as opportunities for advanced practice become realities and as the health care landscape morphs at record pace.
New approaches to cataract treatments, primary care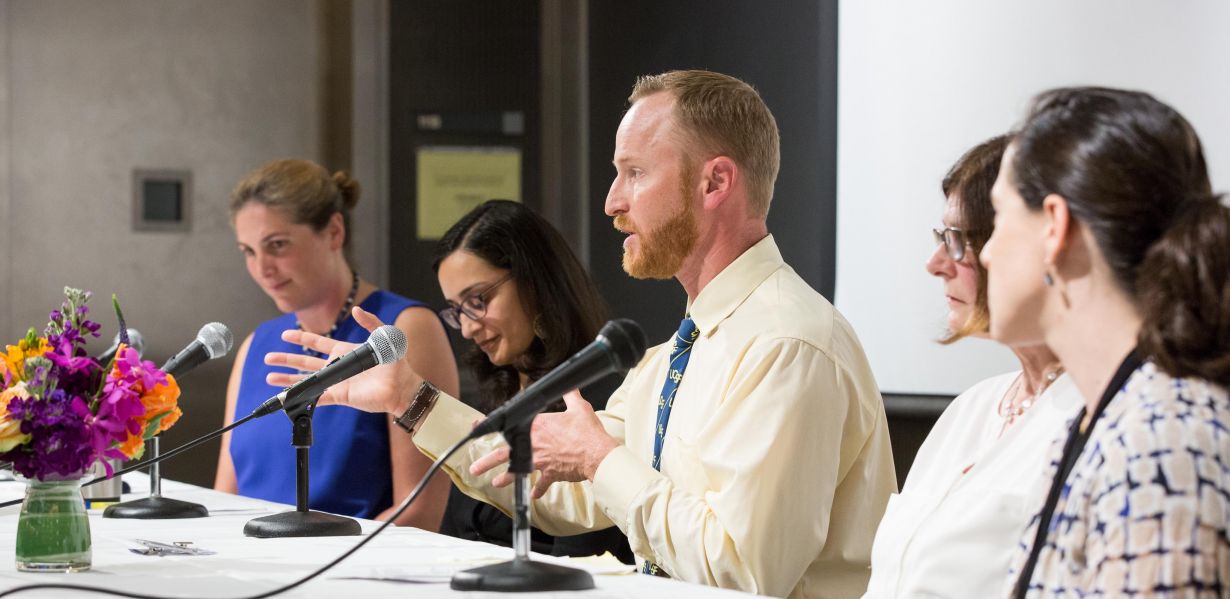 Between the morning and afternoon events on Saturday, Jason Gestwicki, PhD, who holds a joint faculty appointment in the Department of Pharmaceutical Chemistry, presented his work to create a topical treatment for cataracts. In another session, Vice Dean Sharon Youmans, PharmD, MPH, moderated an interdisciplinary panel discussing emerging approaches to the delivery of primary care. Joining panel colleagues from the fields of physical therapy, dentistry, medicine, and nursing was Timothy Cutler, PharmD, Department of Clinical Pharmacy.
Adler receives Distinguished Alumnus of the Year award

The weekend closed Saturday night at the Pharmacy Gala Dinner, presided over by Pharmacy Alumni Association President Brian Komoto, PharmD, where the association presented the 2016 Distinguished Alumnus of the Year award to David Adler, PharmD. David's remarkable, career-long impact on pharmacy practice, education, and public service at UCSF, in California, and beyond has been huge and indelible. Recognized as well for their enormous contributions to the profession were Ninth Floor Pharmacy Project practice and education pathfinders.
---
Image credits: Drew Altizer, Cindy Chew
---
About the School: The UCSF School of Pharmacy is a premier graduate-level academic organization dedicated to improving health through precise therapeutics. It succeeds through innovative research, by educating PharmD health professional and PhD science students, and by caring for the therapeutics needs of patients while exploring innovative new models of patient care. The School was founded in 1872 as the first pharmacy school in the American West. It is an integral part of UC San Francisco, a leading university dedicated to promoting health worldwide.