New Department of Bioengineering and Therapeutic Sciences
New Department of Bioengineering and Therapeutic Sciences
By UCSF School of Pharmacy Editorial Staff / Mon Apr 27, 2009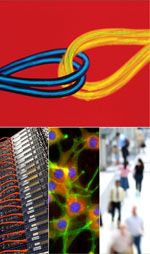 Image credit:
© majedphoto.com except 3-panel cells: Tejal Desai, 3-panel crowd blur: Flickr/David Sim, victoriapeckham
The UCSF Department of Bioengineering and Therapeutic Sciences, which is UCSF's first department administered jointly by two schools, was announced today to the campus community by UCSF Chancellor J. Michael Bishop, MD. "Creation of this joint department was a notable achievement in the history of UCSF, and a tribute to the collaborative spirit that we value so highly," stated Bishop.
"The goal of our research to speed the innovation of medicines and medical devices to sophisticated, effective, targeted 'intelligent' therapeutics," explain department Co-chairs Kathy Giacomini, PhD, and Sarah Nelson, PhD "We created the department with the knowledge that we could more quickly realize our aims by bringing together scientists whose expertise is building and computing, and scientists who are experts in the pharmaceutical sciences and genetics."
Department faculty members are focusing on 5 areas of research. Equally important to the faculty is the training of the next generation of scientists and healthcare providers who collaborate in unexpected ways where disciplines intersect.The new department unites the former Department of Biopharmaceutical Sciences in the School of Pharmacy and the Program in Bioengineering in the School of Medicine. According to School of Pharmacy Dean Mary Anne Koda-Kimble, PharmD, "They'll do together what they couldn't have done alone."
"This is the administrative structure catching up to our faculty," adds UCSF School of Medicine Interim Dean Sam Hawgood, MB, BS. "Our goal in leadership is to enable our faculty and trainees to do the best work possible, while we stay out of the way."
Full Story:
[New UCSF Department Drives Innovation of Intelligent Therapeutics][link defunct]
---
About the School: The UCSF School of Pharmacy is a premier graduate-level academic organization dedicated to improving health through precise therapeutics. It succeeds through innovative research, by educating PharmD health professional and PhD science students, and by caring for the therapeutics needs of patients while exploring innovative new models of patient care. The School was founded in 1872 as the first pharmacy school in the American West. It is an integral part of UC San Francisco, a leading university dedicated to promoting health worldwide.