Clinical Pharmacists Specialize in AIDS
Clinical Pharmacists Specialize in AIDS
By Christopher Vaughan - UCSF Office of Public Affairs / Fri Dec 17, 2004
From the time the antiretroviral therapy AZT was introduced in the 1980s to treat AIDS, the drug demanded close patient monitoring to be effective. AZT had many side effects and strict requirements for how and when to take it. Misuse of the drug could lead to viral resistance. Since then, the number of anti-HIV drugs has increased dramatically, and the management of HIV drug treatment has become ever more complicated.
Not surprisingly, the clinical pharmacist, who is trained specifically to manage complex drug regimens and provide direct patient care, is important to the successful use of antiretrovirals. Taking the lead in AIDS medication management are clinical pharmacists from the UCSF School of Pharmacy.
Challenges of HIV Therapy
"Very early on in the AIDS epidemic, we realized that clinical pharmacists would have to get more involved in patient care," says John Inciardi, PharmD, DSc, associate clinical professor. Infectious disease pharmacy experts like Joe Guglielmo, PharmD, professor of clinical pharmacy, became immediately involved in treating AIDS, Inciardi says. Many other pharmacy specialists followed suit.
One challenge to treating HIV with antiretroviral drugs is the speed with which the virus mutates. HIV immediately begins to change into forms that could be resistant to antiretroviral drugs. If therapy is halted even temporarily, a drug-resistant population of virus can blossom. "Adherence to therapy is extremely important to minimize the development of viral mutations resistance," Inciardi says.
Another challenge is strict requirements for how antiretrovirals are taken. "Some drugs have to be taken with food, some on an empty stomach, and many have to be taken on a very specific schedule so that the drug's concentration in the bloodstream doesn't vary," says Jennifer Cocohoba, PharmD, assistant clinical professor of pharmacy. "With more than 20 United States FDA-approved antiretroviral drugs, medication management is becoming more and more complicated. We have to understand completely all of the different HIV drugs, be aware of drug interactions and toxicities, and help tailor the medications to fit the patient," she adds.
In the Clinic
Not surprisingly, clinical pharmacists who specialize in AIDS practice in HIV clinics.

 Betty Dong, PharmD
, professor of clinical pharmacy, cares for patients at the [Stanley Jackson HIV Clinic][
link
defunct as of September 7, 2012] at San Francisco General Hospital Medical Center. Dong asks patients to bring in all of their medications for review. The results can be surprising. "Patients sometimes have duplicate pills because one prescription will have the trade name and another will use the generic name. Sometimes they are taking other drugs that cause their AIDS drugs to lose their effectiveness," Dong says. "We have to work extremely hard to make sure patients take their medications correctly."
"We sit down with patients and find out what we can about them as individuals. We learn about their lifestyles, like do they have pets at home, do they have a refrigerator at home," says Cocohoba, who practices in the Men of Color Program and the Women's and Children's Specialty HIV Program at UCSF Medical Center. "As much as possible, medications should fit the patient rather than have the patient fit the medicines. We create a space where patients feel most comfortable, where trust is fostered, and that makes our one-to-one consultations that much more effective."
In the Local Pharmacy

 Outside the clinics, UCSF pharmacists apply their AIDS expertise in community pharmacies. One goal is to improve communication between local pharmacists and heath care providers.
According to Inciardi, physicians treating HIV patients often found that they did not have a good way to know which drugs their patients were taking. "Different clinicians often wrote different prescriptions, the databases in the clinics weren't being updated reliably, and patients didn't necessarily remember each of the drugs they were taking," Inciardi says.
The community pharmacy, where patients fill their prescriptions is the one place that records a patient's full suite of medications. "Physicians found themselves calling the community pharmacy to get that information," says Inciardi.
To help streamline the process, Inciardi further enhanced an HIV specialty program operating in the Walgreen's pharmacy in San Francisco's Castro neighborhood. The program now has more direct access to clinics at the UCSF Medical Center and San Francisco General Hospital Medical Center. UCSF doctor of pharmacy students spend one day at the pharmacy each week, formally reviewing patient records and taking that information back to the clinic for follow-up.
The program also spots problems with how patients comply with their drug regimens. "If a patient is given a prescription for a 30-day supply of medication and he or she comes to refill it in 35 days, only the pharmacy is going to know that," Inciardi says. "We've found some patients who regularly come in every two months for a one-month supply." Clinicians can also find out when prescriptions are not picked up at all, either because of lack of patient follow through or because there were problems with insurance.
Through the Wire

 Clinical pharmacists at UCSF often find that their expertise is needed far from the patients they serve. Dong coordinates much of the activity for UCSF's
National HIV Telephone Consultation Service
, know as the Warmline, which provides advice to clinicians throughout the country who have questions about HIV medications.
"A lot of the telephone calls these days are for advice in managing drug resistance to HIV therapy. The advice we give can be key in salvaging drug regimens," says Dong.
UCSF is also the home of the National Clinicians' Post-Exposure Prophylaxis Hotline, known as PEPLine. "Most of the calls are from clinicians who care for health care workers who have been exposed to HIV occupationally, and we can advise on emergency post-exposure prophylaxis," Dong says.
Around the Globe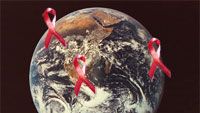 Although pharmacy is practiced throughout the world, the potential of clinical pharmacy practice is assuming global significance, especially when applied to AIDS. The reasons are many, including these:
The potential of clinical pharmacy is becoming known in the developing world. The Internet has proved a powerful communications tool.
New HIV drugs introduced to the developing world require complicated drug management. The potential of these drugs is directly related to the skill and knowledge of the health care provider managing the drug regimen. Clinical pharmacists have the requisite training.
One of the barriers to successfully challenging AIDS in the developing world remains the lack of a trained workforce. Pharmacists are increasingly being recognized in the developing world for their workforce potential.
Vietnam
The Vietnamese Ministry of Health estimates that there are more than 75,000 HIV-infected people in the country, and that one in 80 households will include an infected person by 2005. With less than 1% of the country infected today, AIDS is still considered a concentrated epidemic in Vietnam.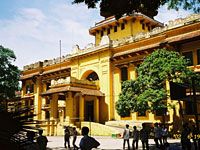 One of the biggest problems for preventing the further spread of AIDS in Vietnam, and treating those cases that now exist, is the limited number of physicians. "In Vietnam there is one physician trained in HIV care for every 10,000 infected people," Inciardi says. "Without a medical infrastructure it's going to be a disaster, so what we want to do is build that infrastructure as quickly as possible."
Inciardi and his colleagues on an interdisciplinary planning committee, who spearheaded an October 2004 conference in Hanoi, are working with Hanoi University of Pharmacy to map a comprehensive strategy to expand the role of pharmacists in Vietnam to control the growing rate of HIV infection. "Most people in Vietnam never see a doctor at all. They go to their local pharmacists to get advice and medicine," Inciardi says. "The opportunity to create a pharmacy workforce in Vietnam that can effectively challenge the disease is there if we can take it."
Conference sponsors and post-conference partners with the UCSF School of Pharmacy and Hanoi University of Pharmacy are:
Malawi

 Other UCSF School of Pharmacy clinicians are taking a different tack to wrestle the international AIDS problem.
Sharon Youmans, PharmD
, is an assistant professor of clinical pharmacy and a trustee of
Global AIDS Interfaith Alliance
(GAIA). This non-profit group is challenging AIDS in the African country of
Malawi
, where the World Health Organization estimates that 11.3 to 17.7% or adults are infected with HIV.
"The major infrastructure that rural people have is the mosque or the church, which makes these organizations good places to focus anti-AIDS efforts," Youmans says,
Youmans's experience in Malawi illustrates the particular difficulties of battling AIDS in an environment of severe poverty. "Basically there are no doctors, no pharmacists, and nurses are practically running the hospitals," Youmans says. Even trained nurses are in short supply because they can get better jobs in other countries, she says.
Lack of an adequate health care workforce is only the beginning of the problem. "People focus on health care and drugs, but the problem is so much bigger than that," she says. "Even if you can provide drugs, people often sell them to get food or pay for their children's education. It is difficult for people to take medication on a regular basis for HIV/AIDS, if they have no food to eat." Youmans's group is working with the Bill & Melinda Gates Foundation to teach income-generating skills to women so they can become more economically independent. The women provide HIV/AIDS education and care to patients with HIV/AIDS in their homes and to orphans.
Uganda
In Uganda, where the World Health Organization estimates that 2.8 to 6.6% of the adult population is infected with HIV, Cocohoba focuses on promoting quality drug information to health care providers. "Providers in Uganda have little experience treating HIV-positive patients, so access to drug information is important," says Cocohoba, who spent a month in the country as a consultant to the AIDS Treatment Information Centre (ATIC). The program answers e-mail and telephone questions from health care providers and is the first of its kind in Africa. It was developed by the Academic Alliance Foundation for AIDS Care and Prevention in Africa.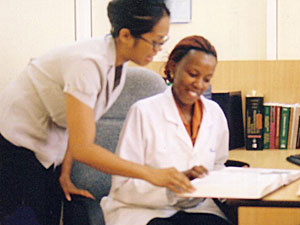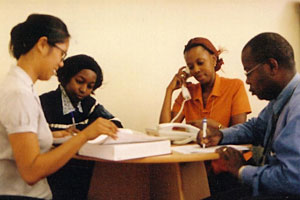 "The center is run by two Ugandan clinical pharmacists. It was helpful for them to see how their center might be modeled after drug information centers in other countries or other HIV-specific services such as UCSF's National HIV Telephone Consultation Service. Ugandan providers often do not have the clinical information tools we take for granted such as PDAs, access to medical journals, or even updated textbooks. Many of the questions Ugandan providers are asking relate to drug dosing, side effects, interactions with other medications. These are questions clinical pharmacists answer every day."
As a Model for Other Diseases
Whether in Africa, Vietnam, or San Francisco, UCSF's clinical pharmacists who specialize in HIV/AIDS focus their attention on improving the care of a complicated viral disease in an increasingly complex world.
"What we do with HIV is a model for care in other areas," Dong says. Besides working with HIV patients, Dong cares for patients taking medications for diabetes, hypertension, and other chronic disorders. "Many patients need intensive counseling so they understand why they are taking these drugs and how to take them. Getting medication and lifestyle information out of patients and giving them essential drug information that takes the whole patient into account is critical to the success of treatment. That's what clinical pharmacists are trained to do. We increase adherence to therapy, decrease medication errors, often save health care dollars, and improve patient outcomes."
More Information
---
About the School: The UCSF School of Pharmacy is a premier graduate-level academic organization dedicated to improving health through precise therapeutics. It succeeds through innovative research, by educating PharmD health professional and PhD science students, and by caring for the therapeutics needs of patients while exploring innovative new models of patient care. The School was founded in 1872 as the first pharmacy school in the American West. It is an integral part of UC San Francisco, a leading university dedicated to promoting health worldwide.