2016 Bay Area Biotechnology Symposium
UCSF School of Pharmacy
Industry Outreach Program presents
2016 Bay Area Biotechnology Symposium: "What's New in Biotech?"
We have assembled leading scientists from San Francisco Bay Area biotechnology companies who will each share a story of how their company took an idea, developed it, and transformed it into a therapeutic. You will hear speakers from Amgen, Caribou Sciences, Gilead, ProLynx, and Genentech, and will learn about drug development at these companies and the associated challenges. There is no charge and no pre-registration.
Open to the Bay Area scientific community and the public.
Scheduled speakers and topics (PDF flyer): 

2016 Bay Area Biotechnology Symposium
Questions? Email: joanne.williams@ucsf.edu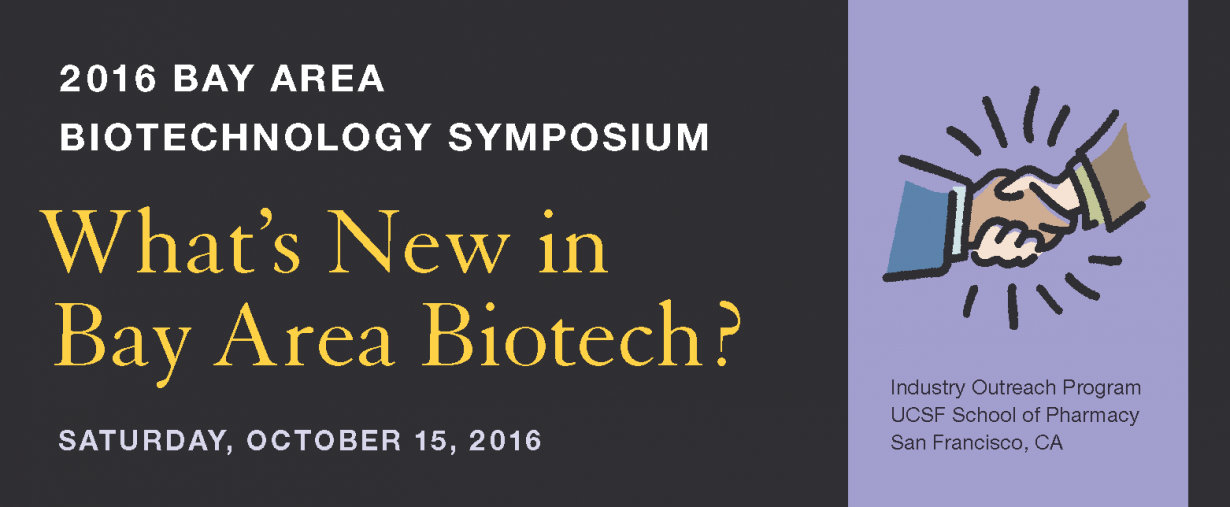 Program:
8:45 A.M.
B. Joseph Guglielmo, PharmD
Dean
UCSF School of Pharmacy
Introductory Remarks

9:00 A.M.
Alexander (Sasha) Kamb, PhD
Senior Vice President
Discovery Research, Amgen, Inc.
"Discovery Research at Amgen"
9:35 A.M.
Andrew May, DPhil
Chief Scientific Officer
Caribou Biosciences
"A Tale of Two Specificities: Cas9/guideRNA Selection and DNA Repair Outcomes
Drive High Efficiency Gene-Editing"
10:10 A.M. COFFEE BREAK
10:25 A.M.
Manoj C. Desai, PhD
Vice President
Medicinal Chemistry, Gilead
"The Discovery and Development of New Antivirals"
11:00 A.M.
Daniel V. Santi, MD, PhD
Co-founder, ProLynx
Associate Dean
UCSF School of Pharmacy
"A Once-Monthly GLP-1 Receptor Agonist"
11:35 A.M.
Michael D. Varney, PhD
Executive Vice President
Head of Genentech Research and Early Development
"Discovery of GDC-0032, a Mutant Selective Beta-Sparing PI3K Inhibitor"